Meet Maartje, a Dutch mom of 30 with two adorable boys! X Jamie
Could you please tell us something about yourself?
My name is Maartje and I have been living in Brabant (The Netherlands) for 30 years. Five years ago I graduated from the Teacher Training College, since then I have been working as a teacher at a primary school. Last year I completed my Master Learning & Innovation and I started working as a researcher in the Research Group of Pabo Avans Breda. Besides my family and work I love to have diners with friends and socialize. We have a big group of friends that we try to see as often as possible. Because of our busy lives it is difficult to still play sports. Before we had the children we often went running during the weekends or on mountainbike or snowboard trips. Hopefully, we can do this again when the boys are more grown up!
How old are your children and could you tell us something about them?
Sam is almost 3.5 years old, a rebellious sweet toddler who loves to cuddle but also tries to seek his boundaries. He likes to play outside and prefers to play with other children. We live in a neighbourhood with many children and they all play outside in the playground, in front of our house. I think it is too early to let Sam play alone outside yet, since he is not the best listener. Mees is now six months old and a he is a little troublemaker. He is a big fan of his brother and laughs a lot with him. Unlike his brother Mees doesn't like to cuddle that much, he is more the explorer type. I'm very happy with my two little friends, especially now I see how fond they are of each other. I wouldn't trade it for anything!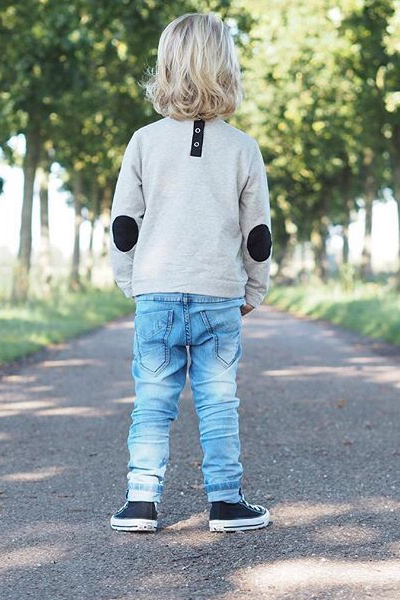 What does your ideal family day look like?
Our ideal family day is a day at the beach. We often go to our favourite beach-bar Sand & Pepper. Sam can spend the whole day at the beach playing with other children, while we enjoy our time on the terrace. I love to play at the beach, build sandcastles and jump along with Sam in the waves. Fresh sea air and sand between your toes: a perfect day!
 
How would you describe your personal style?
Minimalistic, tough, biker look, black, loose outerwear, flat shoes. I think it is important to feel comfortable in my clothes, which is not the case when I am wearing heels, hats or tight dresses.
Why do you like House of Jamie?
As I described in my personal style I like minimalistic features. House of Jamie has this minimalistic style which I am fond off. They use basic colours, which I would wear myself as well. The materials are made of high quality therefore it feels nice and soft. I love to see that the Bow Tie returns on different items. For both girls and boys House of Jamie is a fun brand!
 
What is your favourite combination with an item of House of Jamie?
I can't really choose! I actually like the whole collection. Beautiful crafted accessories and qualitative and timeless clothes. The most worn item is the Bow Tie Hooded Jacket. Mees wears this everyday. It is really soft and can be combined with every item.